Home

/

Creative phasing allows store to remain safe and shoppable
Creative Phasing Solution
Allows Store To Remain Safe & Shoppable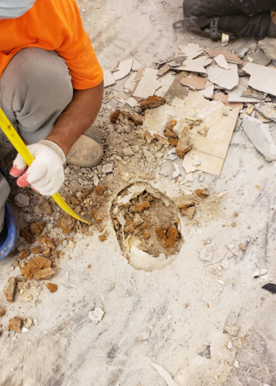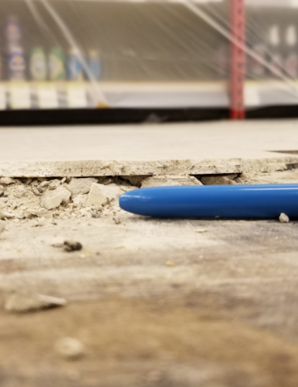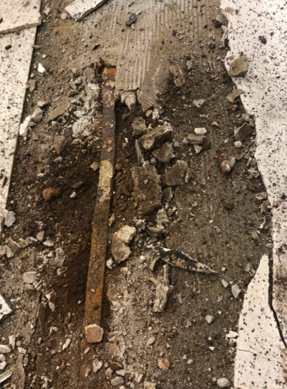 Multiple challenges require a phased approach.
A routine pre-execution site assessment by Inside Edge revealed several flooring challenges for this particular retail location. Moisture testing confirmed subfloor moisture under the two layers of VCT. Additionally, testing found a deteriorating concrete substrate, crumbling aggregate, and embedded metal filler strips throughout the stores' sales floor.
In order to execute the installation in the shortest amount of time and disruption, Inside Edge created a phasing schedule and protocol to work simultaneously in multiple areas. All of the concrete grinding and coating work was done overnight to get to a solid substrate to apply new flooring.
Each night, the crew simultaneously worked on 2-3 phases, following a four-step process:
Step 1 – Demo existing flooring and grind concrete
Step 2 – Apply moisture mitigation epoxy coating
Step 3 – Apply self-leveler
Step 4 – Install new vinyl plank flooring
By using temporary transition strips between each phase and ensuring we left behind clean, flat, and safe grey floors, the store was able to remain open during the entire 2-1/2 week long remodel. The result was a beautiful new LVP sales floor that caused minimal disruption to the store team and their shoppers.
Temporary Transition Strips: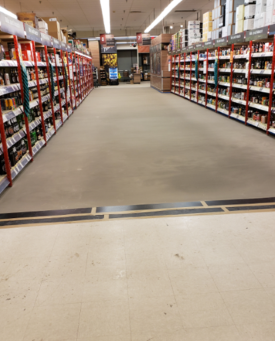 Phasing Plans: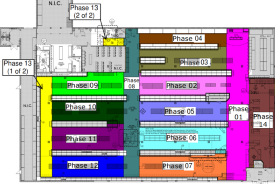 Finished Sales Floor: